Rockwell Harmon House Visitor's Center-
Also home to the Lake Luzerne Regional
Chamber of Commerce.

NEW Hudson River Map (Click to enlarge)
Adirondack vacation getaway in Lake Luzerne. Ideally located near Saratoga Springs and Lake George, Lake Luzerne welcomes travelers to the region. There are many excellent restaurants and Adirondack lodgings nearby along with countless activities. Enjoy whitewater rafting on the Hudson River, horseback riding along mountainous trails, take a hot air balloon ride or an excursion train ride along the Hudson River. These are just a few of the attractions in the area. Browse our site and learn all that Lake Luzerne has to offer.
The Lake Luzerne Region is one of the most easily reached Adirondack vacation spots, beginning just 5 miles from Exit 21 of the Adirondack Northway (I-87) and less than a 4 hour drive from NYC, Boston, Montreal, or Syracuse. Lake Luzerne is less than half an hour drive from historic Saratoga Springs, and Lake George village. Now you can also hook up via train on Amtrak in NYC and connect with the Saratoga North Creek Railway to the Lake Luzerne Region. So here's your opportunity to vacation Adirondack Style - "Let us show you around."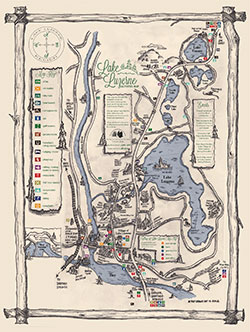 Activities Map (Click to enlarge)